3 Easy Horseradish Recipes Perfect for Spring and Summer
The sun is shining and the birds are singing – what better way to celebrate the arrival of warmer weather than with a light, refreshing meal on the deck? Whip up a jug of iced tea and set the table, because we have some great horseradish recipe ideas for you.
Broccoli Salad with a Twist
We love a classic broccoli salad! For the best flavour, we recommend preparing this no-cook salad in advance and letting it sit in the fridge overnight.
A broccoli salad is extremely versatile and features raw, crisp, finely chopped broccoli mixed with flavourful dressing and toppings. You can add pumpkin seeds, dried cranberries, sliced almonds, or anything else that you have available in your pantry. For our favourite twist, add a spoonful or two of Dennis' Original Horseradish to the sauce. It balances out the sweetness of the cranberries and cuts through the creamy mayonnaise perfectly.
Check out our recipe for Broccoli Salad with a Twist.
Dennis' Elevated Sausages
What goes on a sausage? In Berlin, add curry powder and ketchup to make currywurst. In Munich, add sauerkraut and mustard for a classic Bavarian flavour. Here at Dennis', we love the taste of our Horseradish Beet Relish on a sausage for some sweet pickly flair. Or, add a little heat with some Horseradish Mustard. Either way, you really can't go wrong with this easy way to elevate a universally loved main dish.
Grab your horseradish with delicious, ready-to-grill sausages at a Sobeys or independent store near you. Check out our recipe for Elevated Sausages.
Horseradish Devilled Eggs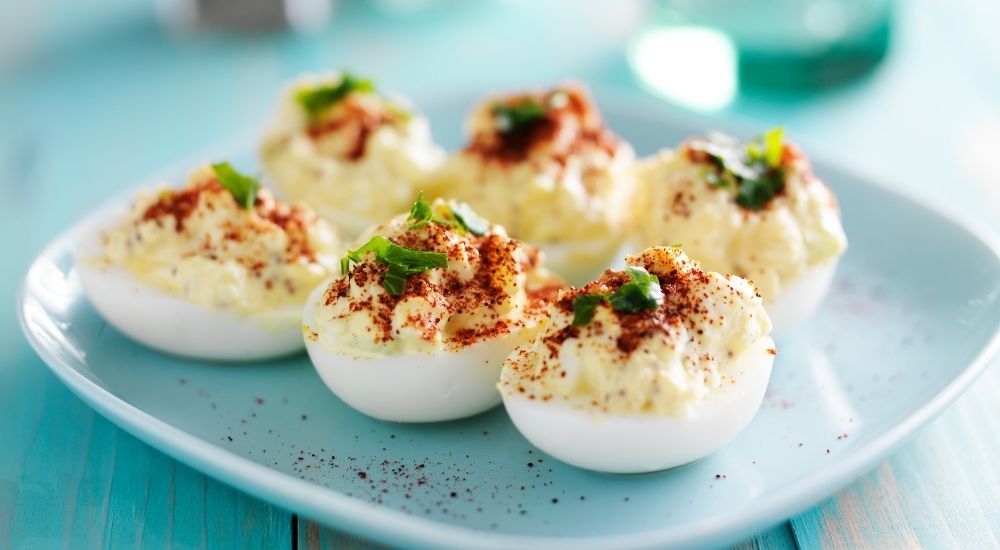 Nothing says spring picnic like devilled eggs. Like broccoli salad, these bite-sized snacks can be prepared in advance the day before. They're sure to be a crowd-pleaser.
Start by hard boiling the eggs in boiling water to your preferred doneness; we recommend 9-10 minutes for set whites and solid-yet-soft yolks. Peel, slice in half lengthwise and scoop out the yolks into a separate bowl. 
At this point, if you were making regular devilled eggs, you'd mix the yolks with yellow mustard, mayo, vinegar, salt, and pepper. Why not take it up a notch? Swap the mustard for our Horseradish Mustard for an extra little kick that'll impress your family and friends.
Finish up by scooping your yolk mixture back into each half-egg. Serve and enjoy!
Check out our recipe for Horseradish Devilled Eggs.
Ready for Spring Eating?
Find Dennis' Horseradish in a retailer near you or place your order now and Dennis' will be on your doorstep in no time.